Gendered Innovation Alliance is proud to further develop the first Swedish online platform dedicated to Sex and Gender-inspired innovation!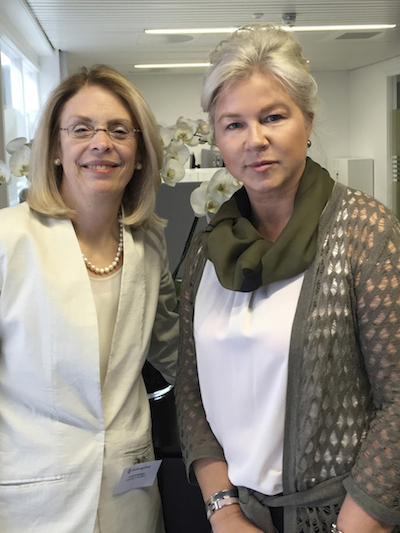 Gendered Innovations.se, a space inspired by the Stanford University correspondent, was reinvented into an online resource that help the Swedish business to pay more attention to sex and gender diversity, implementing innovation. For many years, the Centre for Gender Medicine at KI under leadership of Associated Professor Karolina Kublickiene has believed in the use of sex and gender to inform creative minds and produce novel ideas. Currently this platform now run under her leadership if newly established platform Gendered Innovation Alliance at Karolinska Institutet.

From the use of women-like manikins for crush test, to the development of respiratory devices for overweight men, the website provides numerous examples on how to improve a product and open a market under the light of gender diversity. The Centre created this platform to introduce the concept of gender diversity to the Swedish audience; to industries as well as to doctors and scientists.
"I am glad we finally bought this project to life" says Karolina Kublickiene, former CEO at the CfGM and current leader for Gendered Innovation Alliance, "it was a long journey from conception to realisation, and thank to brilliant people we can finally present it to the users". The Website has been realised thanks to Fernanda Torre, Karolina Kublickiene and Erika Tanos. We warmly acknowledge Stanford University, in particular Professor Londa Schiebinger, for seeding the very first version of the website, initiated at the Clayman Institute in 2009. With this website, Sweden becomes the first country to adopt this model, after the United States.

Users can browse through the different sections of the webpage, and find out the methodologies that should be adopted to analyse whether certain R&D has the potential to expand towards a diversification by sex and gender. "Sex and gender can influence all stages of R&D processes, from strategic considerations for establishing priorities and building theory to more routine tasks of formulating questions, designing methodologies, and interpreting data" says the webpage. The performance of the website will be monitored through the following months, and the Centre hope to release an updated version of the website where users can add case studies and experiences.


The advantages of using GenderedInnovations.se:

The platform allows the implementation of a multilingual approach (contact Karolina Kublickiene if you are interested in implementation in your country);

Enhanced flexibility and user friendly approach when adding new pages to the website and/or adapting information according to national experiences and conditions;

Fast and easy page management: locally approved administrator/user may edit content without complicated software or programming;

Possible to have users with limited access to certain parts of the website (eg: users who are only allowed to edit case studies, etc.);

The IT platform on which GenderedInnovations.se is based upon is continuously being evolved - new functionality and features are persistently being developed and planned to be implemented;

Possibility to integrate social media - Facebook, Twitter, Instagram;